Helpful Information about A Possible Influenza Pandemic

A possible epidemic of a new strain of influenza virus is of great concern. It can powerfully infect people since most people have no resistance or immunity to it. Once a new strain of the virus actually appears, it can cause a global outbreak of an influenza pandemic,
which may have a great impact not only on our health but also on social functions including those of the economic sector.
Individual Response: What Each of Us Can Do
Individuals cannot protect their own or their familyfs health alone.
yPreparations for a Possible Influenza Pandemic that You Can Start Nowz
Stock Food and Necessary Goods for Daily Use
If an influenza pandemic spreads, everyone will be expected to travel less and refrain from going out.
In order for you to be able to stay home for at least two weeks, you are advised to stock some preserved
food and necessary goods for daily use.

Follow Appropriate Practices for Personal and Public Hygiene
There are things that you can easily do once you get accustomed to them. There are some preventive
measures against influenza, which usually spreads every winter. These measures may also protect us
from a new type of an influenza pandemic.
¦Keep Yourself in Good Health
¦Wash Your Hands and Gargle When You Return Home

¦Wear a Surgical Mask
A surgical mask can protect your body from being attacked by viruses, but the most important function
is to prevent other people from being infected by one who has already been infected. If a person who
has already been infected wears a surgical mask, it can protect other people from being infected. If you
have a fever or you are coughing or sneezing, you are encouraged to wear a surgical mask.

¦Appropriate Manners for Coughing or Sneezing
When you cough or sneeze, you may not see it, but you spray out saliva. Cover your mouth and nose with
tissue paper and stay at least one meter away from other people (facing away from them) when you are coughing
or sneezing. Tissues with mucus or phlegm should be immediately discarded into a trash can that has a lid.

Form a Network for Mutual Assistance and Care
Prepare for ways to provide help and support to people who are living alone during a pandemic period.
¦If an influenza pandemic spreads, people in neighborhood communities must help and care for elderly people
who are living alone.
¦Ways of keeping in touch with each other should be confirmed well in advance.

We set up the call center regarding new influenza viruses for returnees from overseas who have fever or worry their health.

Please first contact to " Hatsunetu Soudan Center (Fever Consultation Center)" for a consaltation immediately befor being seen a clinic.

Matsuyama Municipal Public Health Office/Center

i'U|'R'O|'TKayamachi, Matsuyama -shi @@@Tel 089-911-1869 , 089-'X'P'P|'P'W'O'Oj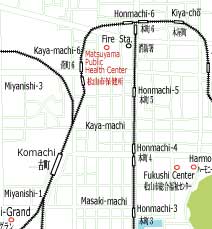 If you do not speak Japanese, ask someone who understands both the language you speak and Japanese to accompany you.